Made in NYC is a nonprofit initiative that supports local manufacturers and makers in New York City.
We provide skills-building programs, marketing and promotional platforms, and small business resources for free to all Made in NYC members. We build a strong community of makers, facilitate local collaborations, and advocate for manufacturing in the city.
Made in NYC works towards a more equitable and sustainable local manufacturing sector that creates quality jobs, supports BIPOC entrepreneurs and workers, fosters creativity, and nurtures a thriving ecosystem of goods made and consumed locally.
Launched in 2003, Made in NYC is currently a community of 1,500 New York City makers and manufacturers. Made in NYC membership is free and gives businesses access to all programs, services, platforms and resources. Nearly 70% of new members since 2018 self-identify as BIPOC- and/or Women-owned businesses.
Made in NYC is an initiative of the Pratt Center for Community Development, a community-based planning and policy advocacy organization that works for a more just and sustainable New York City in partnership with community-based groups, small businesses, and the public sector. Pratt Center is a part of Pratt Institute.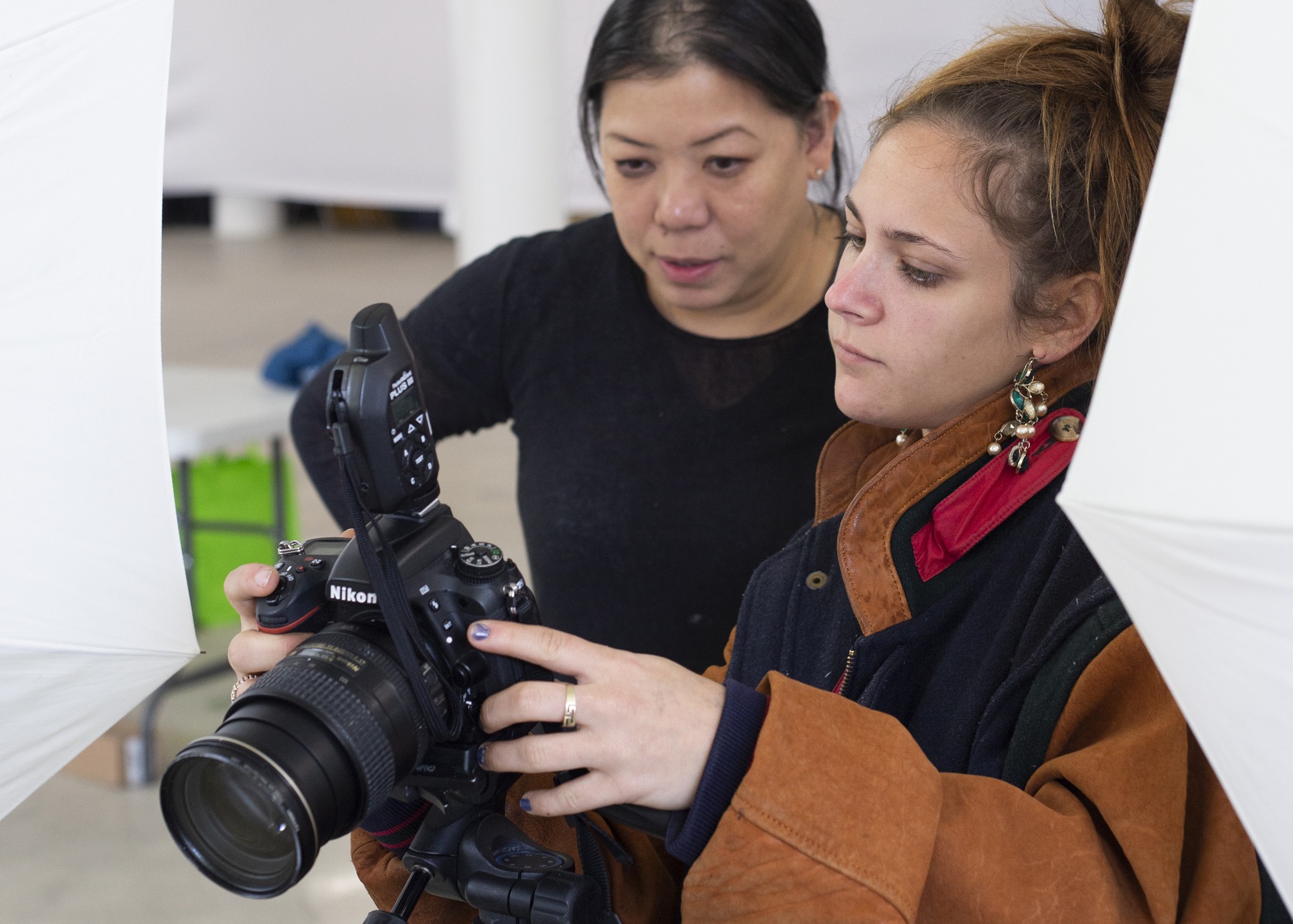 A student photographer from Pratt works alongside a Made in NYC member to create product photos.
Made in NYC offers free learning opportunities designed for the marketing, design and production needs of small makers and manufacturers. The Made in NYC Learning Lab is made up of 40+ free workshops by leveraging the world-class expertise of Pratt Institute faculty and students to strategically enhance the marketing capacity of our members. We also hold a wide array of free workshops and webinars to equip members with the skills and resources necessary for their businesses.
Made in NYC constantly finds new ways to increase the visibility of NYC-based manufacturers and their unique products. The Made in NYC logo is a tool to tell customers that their products are certified as locally made. Made in NYC actively features members on our social media platforms and coordinates campaigns to spotlight BIPOC, Women, and LGBTQ+ members. Through curated pop-up markets, special events and campaigns, we provide our members with the exposure they need to expand their markets and grow their businesses.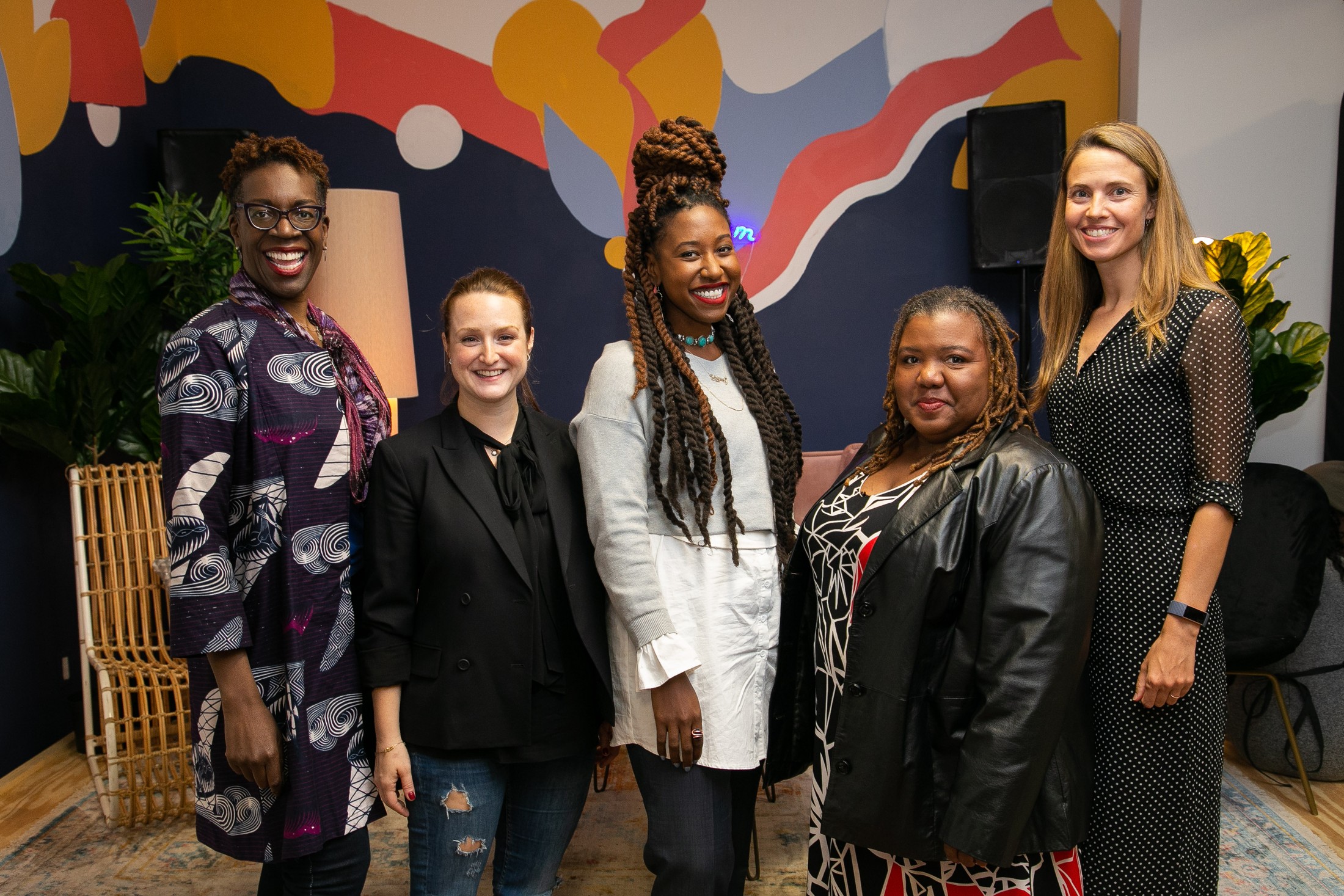 Speakers from the "Sustainable Fashion & Equity Panel" at Made in NYC Week 2019. From left to right: Ngozi Okaro, Jane Potter, Whitney McGuire, Sue Rock, and Lindsay Clinton.
Made in NYC cultivates community through a variety of events, activities and platforms connecting Made in NYC businesses to each other, strengthening the local manufacturing ecosystem. MadeinNYC.org serves as a tool to connect members to each other for sourcing, purchasing and collaborations. Made in NYC organizes networking events, facilitating connections between our members and the larger manufacturing community to share knowledge and resources.
Made in NYC provides members with the tools and resources they need to grow. Our Office Hours program offers customized one-on-one support that connects members to our network of organizations with free or subsidized services ranging from legal to financial and technical assistance.
Made in NYC leverages our members' stories, needs, and data to advocate for policies that protect industrial space, manufacturing jobs, and small businesses, and advance equitable economic development for New York City. We work with local and national coalitions that support urban manufacturing, small businesses, BIPOC-owned and Women-owned businesses.
Made in NYC is a non-profit initiative of the Pratt Center for Community Development, an urban planning and policy organization based at Pratt Institute that works for a more just, equitable and sustainable New York City. Made in NYC was launched in 2002 by the New York Industrial Retention Network which merged with Pratt Center in 2010.
As part of Pratt Institute, Made in NYC partners with instructors in fashion design, communications design, industrial design, and arts and cultural management to create workshops or provide direct creative services that enable Made in NYC makers and manufacturers to better tell their stories.
Urban Manufacturing Alliance
Urban Manufacturing Alliance (UMA) is a coalition of more than 500 economic experts and practitioners from 130 cities working to grow more equitable economies by building robust, environmentally sustainable, and inclusive urban manufacturing sectors. UMA facilitates Communities of Practice, in-person gatherings and original policy research to showcase current practices, programs and people that are uplifting manufacturing and creating more equitable communities.
Manufacturers thrive off of the energy of urban areas, citing many benefits to locating in cities, including: talented workforce, culture of entrepreneurship, manufacturing adjacent industries, and access to markets.
Industrial Jobs Coalition
The Industrial Jobs Coalition is a citywide alliance of community groups, policy advocates, and service providers fighting to protect and preserve the manufacturing sector in New York City. It includes most of the designated Industrial Business Service Providers, who are responsible for overseeing and supporting the city's Industrial Business Zones.
"Industrial businesses pay higher wages and offer more career opportunities to a workforce that is 80% people of color & 50% immigrant."
Manufacturing and Industrial Innovation Council
The Manufacturing and Industrial Innovation Council is a Mayoral Industry Partnership that supports the sustainability and growth of New York's manufacturing and industrial sectors by focusing on talent, technology and policy.
New York Fashion Workforce Development Coalition
The New York Fashion Workforce Development Coalition (NYFWDC) is a multi-stakeholder working group bringing together individuals from the fashion industry, community, academia, non-profit sectors and government to find solutions to strengthen and grow New York's fashion future via social justice, women's economic advancement and empowerment.
All Made in NYC training programs, creative services and marketing platforms are completely free for manufacturers in New York City thanks to the generous support of the New York City Council. Since introducing marketing support programs in 2016, Made in NYC Learning Lab has served more than 1,100 businesses in the five boroughs.
Garment District Alliance
Funding from the Garment District Alliance allows Made in NYC to provide customized trainings and creative services to manufacturing businesses operating in Manhattan's Garment District.
Made in NYC is grateful to receive ongoing support from Con Edison.
Made in NYC has worked with more than 2,100 local businesses employing 93,000 people. In 2016 Made in NYC began to expand its programming to reach more companies with marketing and branding support.
We acknowledge and act upon critical barriers to entry for people of color and women, who are disproportionately employed in sectors resistant to living wage policies or excluded and underrepresented in booming economic sectors such as the creative and innovation economies. Our programs promote and uplift BIPOC business owners and workers. We also work to protect industrial jobs, which pay two times the average wage of other sectors that don't require formal accreditation. Many industrial subsectors also provide growth, skill acquisition, and wage mobility on the job that other sectors do not. As a result, the industrial sectors are uniquely important pathways to the middle class.
Environmental Sustainability
Local manufacturing is essential to an environmentally sustainable city. Cities can either truck in all the products they need to survive and truck out their waste, or they can begin to "close the loop" by encouraging the recycling and re-use of products which have finished their original planned life. We need to reduce polluting by diverting hundreds of tons of glass, plastics, fabric, metals, cardboard, wood and building materials away from landfills and into supply chains for new industries. Because urban manufacturers are located near their markets, they can work with their customers and designers to develop new, environmentally responsible products.
Taylor Novick-Finder
Senior Program Manager
As Senior Program Manager, Taylor creates opportunities to help bolster and support New York City's vibrant manufacturing and maker community, champion local small business development, and promote the 'Buy Local' movement. He leads the initiative's programing and partnerships, including the Learning Lab and our market access initiatives.
Kayla Shifter
Program Manager
As Made in NYC's Program Manager, Kayla leads our marketing campaigns and membership engagement, including building awareness of the Made in NYC brand, leading the program's storytelling and communication efforts, and planning events and activities that support Made in NYC member businesses and NYC's manufacturing community.
Maulika K. Hegde
Marketing Fellow
As the Marketing Fellow, Maulika supports Made in NYC with external communications, outreach, and marketing campaigns that promote local manufacturing businesses and makers in New York City. She's currently getting her MFA in Communications Design from Pratt and hopes to work at the intersection of user research, experience and interaction design. In her former professional life, she was a tax lawyer in India.